Expectations are a silly animal.  Especially where movies are concerned.  Even more so when said movie is an adaptation of a popular, well-loved novel (or in some cases, series of novels), a true-story, or as the case has been in recent years, a comic book.
So, when The Dark Knight Rises hits theaters Friday, July 20th, expectations for the follow-up to the hugely popular The Dark Knight and finale in the Christopher Nolan franchise are sure to be through the roof.
It's been four years since "the Batman," as Commissioner Gordon likes to call him, was in theaters.  In Gotham time, eight years have actually passed since The Joker's reign of insanity came to an end, since Batman took the fall for the crimes of Harvey Dent (Aaron Eckhart) committed after the accident that turned him into Two-Face, and his love, Rachel (Maggie Gyllenhaal), died.
The Dark Knight Rises Bruce Wayne is a broken man, emotionally and physically.  A recluse in Wayne Manor, he hasn't emerged in eight years.  And he hasn't had to since Gotham is now peaceful, enjoying low crime rates thanks to the Dent act that put a thousand criminals behind bars.  But nothing is going to keep Gotham and Batman's newest and biggest threat, Bane, out of town.  Played mercilessly by Tom Hardy (Nolan's Inception, Warrior), Bane is a force to be reckoned with.
Three questions I've been asked since seeing the movie: 1) Does Batman die?;  2) Who's a better villain – The Joker or Bane? and 3) Is this one better than The Dark Knight?
To question #1, I say "No comment."  Why would I ruin that one way or the other?
Question #2 is certainly a fair and interesting one.  Simple answer, though, is that you can't compare one to the other.
The Joker was unpredicable and captivating, the audience left hanging on his every word, wondering what he'll do next.  The way Heath Ledger made us hate to love that character is why his performance will go down as one of the greatest in history, justly recognized with a posthumous Oscar®.
Bane, on the other hand, is a brute, a monster of a man who tears down anyone in his path.  And I do mean anyone.  His physical threat is undeniable.  His motives are plain and clear from the beginning, and his terroristic plans are down-right frightening.  And because of that, his villainous ways are on par with The Joker.  Their approach, their personalities, their looks may be on opposite ends of the spectrum, but they are one in the same when it comes to unleashing mayhem.
And then there's question #3, a much more complicated one to answer.  This is where expectations really come into play.  If The Dark Knight Rises doesn't live up to expectations, does that mean it's not as good as its predecessor, or even not a good movie?  No question, Nolan and his writing partner, brother Jonathan (David S. Goyer also gets a story credit), had a tough nut to crack here.  Audiences are very passionate about The Dark Knight, the highest-grossing movie of 2008 with $533 million domestically, just over $1 billion worldwide.  The Academy insists the movie's exclusion from the list of Best Picture nominees in 2009 had nothing to do with why it expanded the category from five to ten nominees the following year.  But deep down, the rest of us know the truth.  If nothing else, we feel better thinking that's why the category was changed.  
What the two have in common in a deep-seeded message that transcends the action and the characters.  Where The Dark Knight was about greed, identity, justice and moral dilemma, Rises tries to renew those morals, focusing on restoring civilization and ridding society of decadence…to put it all simply.  
So, is The Dark Knight Rises better than The Dark Knight?  Does it honestly have to be?  Watch the movie and take it for what it is.  But having said that, Nolan and team certainly 'rise' to the occasion and deliver one hell of a ride.  
The cherry on the cake is Nolan's visual mastery.  Combined with stellar work yet again from cinematographer Wally Pfister, Nolan ups the ante this time around, shooting much of the movie with IMAX cameras.  Quite a feat considering the special cameras can only shoot some three minutes of film at a time.  And 72 minutes of the extra-large screen footage makes the final cut, sometimes in places you wouldn't expect.  Obvious for big action sequence – or this movie's high-flying aerial stunt that is arguably one of the most jaw-dropping stunts ever filmed – Nolan also uses the IMAX camera for a few quiet, emotional sequences, emphasizing beautifully exactly what's at stake.  
The recently released 13-minute feature from Warner Bros. explores the trilogy finale, introduces the characters, and deeply explores the layered and complex story, among other things, with help from the filmmakers and cast – which sees Morgan Freeman (Lucius Fox), Gary Oldman (Commissioner Gordon) and Michael Caine (Alfred) in a deeply emotional performance join franchise newcomers Anne Hathaway as Selina Kyle (though never called by her alter ego, Catwoman), Joseph Gordon-Levitt as young police officer John Blake, and Marion Cotillard as a new board member of Wayne Enterprises, Miranda Tate.
In his interviews, Bale reveals to Jake Hamilton of Fox26/Houston and Jake's Takes which scene wearing the cowl was his last day of shooting and how the movie tested him as an actor, Hathaway talks about the role she thought Christopher Nolan wanted her to play and why she was happy to not have any scenes with cats.  And Nolan talks about what his first two features – Following and Memento – have to do with his Batman franchise, whether The Joker was ever supposed to be part of the finale, and who among the cast he did and didn't reveal the ending to.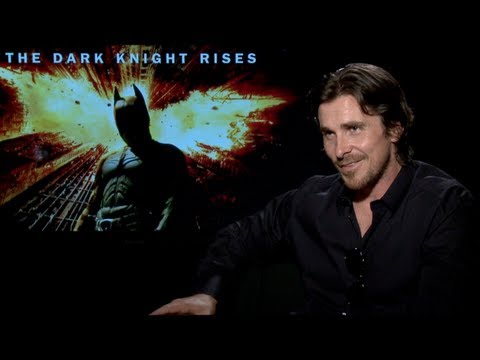 The Dark Knight Rises is in theaters and IMAX (where I highly recommend you see movie) July 20th, is rated PG-13 and runs 164 minutes (but it doesn't feel like it).