Phil Lord and Chris Miller have a huge hit on their hands with their new R-rated action-comedy, 21 Jump Street. Starring Channing Tatum and Jonah Hill, who also co-wrote the script, the movie is a re-imagining of the 1980s Fox TV series. The movie has little to do with the original series, but it does borrow the concept of using young officers as undercover agents in high school. Racy, raucous, self-deprecating and down-right hilarious, 21 Jump Street is going to solidfy the directing duo as a go-to team. 
Just as the movie is polar opposite from the TV show, Lord and Miller couldn't have chosen something more different to direct from their big screen debut, 200p's Cloudy with a Chance of Meatballs. The PG-rated, Golden Globe-nominated animated feature was a success in its own right, making more than $243 million worldwide. Offered other family-friends movies following Cloudy - "kid fighting monsters and stuff," Lord says – the duo wanted to branch out. "We're badly ambitious people who want to constantly be learning and getting better," he says, "and we felt like this was the best way to do something we hadn't done before and stretch." 
They certainly did it with this movie, as they will with one of their next projects, a movie based on Legos, which is still untitled. I talked to Lord and Miller about that movie, but not before digging into 21 Jump Street - when they knew the movie was good, what Jonah Hill had to do with their involvement, the movie's widely rumored cameos, and how they could make history as a directing team. 
But first, here's a closer look at what 21 Jump Street is all about.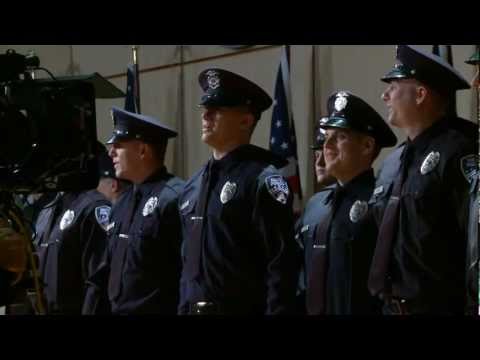 **************************************************************************************************************************************************************************************
Gerrad Hall: There have been a lot of word-of-mouth screenings over the past several weeks. Do you stay to watch audience reaction?
Phil Lord: We're saving ourselves a little bit. We've tested the movie a bunch and we stayed for the first couple ones we introduced. We're going to see the movie at [South by Southwest] and right after that at the premiere. And I feel like, if I watch it too many times between now and then, I'll have a heart attack about some shot or something.
GH: Do you think you have a pretty good idea about what audiences love about the movie?
Chris Miller: We did a lot of test screenings and we've seen the audience reaction, but we're trying to save ourselves a little bit now so that we don't get too exhausted with it.
PL: It's been a good response so far. I would say that the movie holds up really well for the first hundred viewings. (laughs)
GH: At what point did you start to feel like you did it right, that you have something good, people are responding the way you hoped?
PL: Well, the first test screening was overwhelmingly positive. And I think we were all taken a little bit by surprise because we thought we had a lot more work to do. And we still did that work (laughs), but it didn't affect the [test scores] at all; they all stayed the same. And we were all really paying attention to the second test screening because we thought, 'Gosh, that [first one] had to be a fluke, that was too good!' And it came back the same. So we're just really lucky people are responding to Channing and Jonah and their relationship, and there were laughs all the way through. We're just incredibly lucky, and we were really pleasantly surprised.
GH: This is just the second full-length movie you've directed together. Since your first one, Cloudy with a Chance of Meatballs, was also at Sony, is that how the conversations started with directing 21 Jump Street?
CM: When we finished Cloudy with a Chance of Meatballs, we wanted to continue to surprise people and challenge ourselves and do something completely different. We knew Jonah socially, we ran in the same comedy circle, and we were big fans of his. And we read the script that he had been working on with Michael Bacall and thought it was really funny and really audacious, and we thought, 'wow, that would be very surprising if we did a hard R action comedy.' And even though we had a little bit of skepticism turning a TV show into a movie, we really kept thinking about how universal the concept was of getting a second chance at high school, and we had a lot of ideas tonally of how to pull it off, and we got really intrigued by it. So we made this whole presentation, because we're obviously not the first people you'd think of to do the hard R action comedy. But we made this booklet that we showed the studio and Neal Moritz, the producer, and Jonah what the look of the movie would be, what the tone of the movie would be, ideas of what we thought we could bring to the story to make it even better. And luckily, we did have a really good relationship with Sony from the first movie, and they liked us and trusted us. And so, they were the suckers who fell for it! (laughs)
GH: Most directing duos are all brothers – Farrelly Brothers, Wachowski, Coen. Have you guys considered adopting a "Brothers" moniker?
PL: We should just adopt one another and be the first father/son, son/father team. (laughs) The first father/son directing duo!
CM: Who would adopt who? (laughs)
GH: You would certainly make history with that. Now, Jonah was already attached to the movie. When I spoke with Ice Cube, he mentioned he didn't realize how funny Channing is in the movie. It makes you wonder why he hasn't been in more comedies.
CM: That's what we were wondering. When we met him, we had been talking for a while about who is going to play Jenko, and Jonah said, 'Guys, you really should do Channing Tatum. He was so great in A Guide to Recognizing Your Saints…he [gave] an amazing performance, and he's a really honest and real type of actor.' And we had seen this little short that he did online with Charlyne Yi where he was doing a scene from Dirty Dancing where he was Patrick Swayze and he was wearing a crazy wig, but he played it totally straight. And we were like, oOh, he gets it, he's not trying to ham it up.' We all thought it was a great idea, so Jonah called him and it turned out that they were both admirers of each other's work. So we [go to] dinner with him, and in the first five minutes, we were like, 'This guy's hilarious!' He's so funny and so natural and he jokes around with you. And the thing is that, when you're in a scene and you're improvising, just go with it…he was doing the same thing. I can't believe nobody's captured this aspect of him yet.
And we were so lucky, the fact that he and Jonah got along so well and became such good friends and really had a real-life bromance while shooting the movie. It showed up on screen in a way that we could never have planned for.
GH: The two as a duo…they really click.
CM: Yeah, it's interesting. It's like any set-up…you can pick somebody, but they have to pick you back. And we all thought the idea of Channing was a great idea, but it doesn't work unless he sees something in us and in Jonah, there's an affinity there. When you'd think he was a little nervous…he'd basically keep saying, 'Just promise me I'm going to be funny! I'm going to put myself in your hands.' (laughs) He understood what was cool and funny about Jonah and funny about the project; it just turned out that we all had a similar point-of-view on everything.
GH: There are such great one-liners. It seems like the cast really committed to the material.
PL: They're great. And some of that stuff really comes from Michael Bacall and just being a crazy motherfucker who thinks of silly stuff to say. He's a lot like us in that he wants to do something cool and kind of badass, but he's not afraid to be silly and weird. And that's what made us really excited about his original draft [of the script].
GH: I have to ask about the widely rumored cameo appearances, but I won't say who or who isn't in the movie. One person we do see in some of the promotional materials, so it's fairly well known that Holly Robinson Peete is in it. As far as any other actors from the TV series, how difficult was – or wasn't – it to get people to participate?
CM: Well, it's hard for us to talk about in that we don't remember if there were any cameos in the movie or not. (laughs)
PL: If there were, they were really awesome!
CM: It does seem like a good idea, and they probably would've been really easy and willing if they did it. But I don't know, it's hard to say.
PL: As far as I can tell, a lot of the original cast members have affection for this show and the experience that they had together on it, and they remain friends, as I understand, and they all grew up on that show and it's an important part of their upbringing and their growth into Hollywood.
GH: One of the next movies you're attached to is the still untitled Lego movie. When I saw the announcement for that, I thought, 'What?! How's this going to work?'
PL: (laughs) That is exactly what attracted us to the project.
CM: We love a challenge! It's a great, fatal flaw of ours. 'How would you accomplish that?' It's that sort of a thing that Phil and I would talk to each other about. And then, when we feel like we've cracked it, then we get really invested. Have you ever seen any of those brick films that are online that people make in their basements…little mini yellow [figures] and a Lego world? We thought, 'What if you made a movie that was like that, but you gave those people a massive budget and big and really great equipment and resources to make the best one of those of all time? That would be pretty neat.' So we fashioned a story that's almost entirely animated with a small live-action component that takes place in an all-Lego world with little yellow [minifigures] and oceans and lands made out of Lego bricks.